Welcome to the International Student Experience (ISE)
At ISE Travel, we believe that education is not just about book learning.
Since 2004, we've worked with hundreds of schools in Singapore and overseas to enhance their student's learning experience through the creation of engaging and inspiring educational travel programmes in Asia and beyond.
By fully immersing oneself in a destination, educational travel presents the opportunity for both young and old to broaden one's horizon through meaningful interactions. Travel tickles the senses, stimulates the inquisitive mind, and generates a spirit of well-being.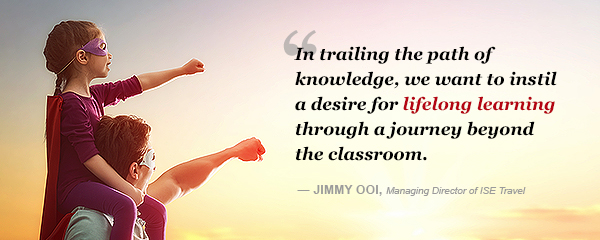 YOUR EDUCATIONAL TRAVEL PARTNER
Through our educational travel programmes, we strive to:
+ Create an appetite for learning as a quest for knowledge
+ Raise one's awareness and appreciation towards foreign cultures
+ Make learning an enjoyable and enriching experience
+ Foster goodwill and friendship and develop a sense of connection between ourselves and the larger community
---
Experienced Travel Professionals
ISE Travel is managed by a team of experienced travel professionals with a common vision to promote education through travel.
Our tour managers / instructors are community leaders who are dedicated and committed in sharing their wealth of management experience from a diverse range of industries.
We are passionate about fostering the spirit of learning to acquire knowledge. You can trust us to be creative and dynamic in our approach in developing unique travel experiences.
TEAM MEMBERS
Jimmy Ooi (B Eng PHF)
Managing Director
Over 35 years in the Educational Travel Industry
|
Janetita Phukemprayoon (B Sc PHF)
Director, Finance
|
Jasra Jonet
Admin & Operations Manager
|
Sabrina Ooi (B Bus)
Marketing Manager
|
Md Izzat Ismail
Director - Sales
|
Leslie Sim
June Jonet
Fancy Tan
S Kumar
Yusoff Mahmood
Lee Yew Lee
Snr Instructors / Tour Managers